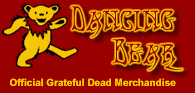 Grateful Dead: Dave's Picks Volume 32, The Spectrum, Philadelphia (3/24/73)

CD549 - 3 CD
Rhino - 2019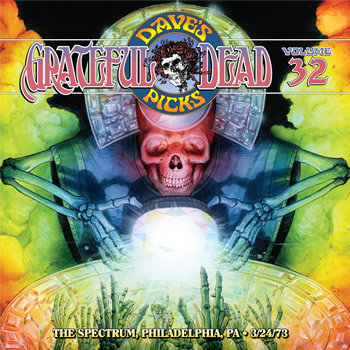 .
Grateful Dead: Dave's Picks Volume 32,
The Spectrum, Philadelphia (3/24/73) - 3CD
As we close out the 2019 Dave Picks series, we deliver on our promise to give you the "whole thing" with the complete performance from The Spectrum, Philadelphia, PA, 3/24/73 and what a show it was! An upstanding "musical eulogy" to the recently departed Pigpen, the Grateful Dead conducted a potent study in contrasts on this bittersweet night. They found easy balance between tidy jams like "They Love Each Other," "Wave That Flag," "Playing In The Band," and introspective moments on "Stella Blue," "Sing Me Back Home," and a poignant "He's Gone." It was all laid down with a discipline and a polish unheard of in any of the truly exceptional shows that had come before it. Yes, you might say, they cleaned up nice to carry on the legacy as Pig would have wanted.
TRACK LISTING:

CD 1
1 Bertha
2 Beat It On Down The Line
3 Don't Ease Me In
4 The Race Is On
5 Cumberland Blues
6 Box Of Rain
7 Row Jimmy
8 Jack Straw
9 They Love Each Other
10 Mexicali Blues
11 Tennessee Jed
12 Looks Like Rain
13 Wave That Flag
14 El Paso
CD 2
1 Here Comes Sunshine
2 Me and Bobby McGee
3 Loser
4 Playing In The Band
5 Promised Land
6 China Cat Sunflower>
7 I Know You Rider
8 Big River
9 Stella Blue
10 Me and My Uncle
CD 3
1 He's Gone>
2 Truckin'>
3 Jam>
4 Dark Star>
5 Sing Me Back Home>
6 Sugar Magnolia
7 Johnny B. Goode
.