Grateful Dead: Spring 1990
And now for something a little different. This year's box set - Grateful Dead: Spring 1990 - offers six complete shows from the epic spring '90 tour, one concert from each city the band played, personally selected by Dead vaultmeister and archival release producer David Lemieux. The sizzling six are: 3/16/90 Capital Centre (Landover , MD), 3/19/90 Hartford Civic Center, 3/22/90 Copps Coliseum (Hamilton, Ontario), 3/26/90 Knickerbocker Arena (Albany, NY), 3/30/90 Nassau Coliseum (Uniondale, NY) and 4/2/90 The Omni (Atlanta, GA).
In his "Producer's Note" in the beautiful book that is part of the box, Lemieux, who attended the first 10 shows on the tour, states, "To my ears this was the last tour that was consistently great, where every show is excellent, not a dud in the bunch." And Grateful Dead historian Dennis McNally's comprehensive and informative insider's essay in the box is titled "The Last Great Dead Tour." These guys know what they're talking about.
Basically, the band had been on an upward trajectory since Garcia's return to the road in the spring of '87, following his near-death the previous summer. Of course, 1987 was a trip in itself, what with the unexpected mega-success of In the Dark and their first hit single, "Touch of Grey." But the momentum just kept building with each subsequent tour, as Garcia got back up to full speed (and then some!) and the group as a whole was as unified as they had ever been since Brent joined the band in the spring of '79. New original tunes were popping up and the old favorites were imbued with a freshness and spirit that was so uplifting and inspiring. The band was having fun again, and it was downright infectious.
The group's fall 1989 shows-as documented two years ago on the Formerly the Warlocks box (two shows from Hampton, VA, 10/8-9/89) and on the 2001 release Nightfall of Diamonds (a single night in NJ, 10/16/89)- kicked the energy level up another couple of notches, as the band reintroduced such loved classics as "Help on the Way" > "Slipknot!," "Attics of My Life," "Death Don't Have No Mercy" and "Dark Star."
And when the band hit the road in mid-March 1990, they had a bunch of other cool tunes to lay on their unsuspecting crowds, including the return of "Loose Lucy" (last played in 1974; it's not on this box), Brent's "Easy to Love You" (missing since 1980), a rollicking cover of the Rolling Stones' "The Last Time," The Band's "The Weight" (with all four singers taking a verse each) and a lyrically retooled "Black-Throated Wind" (absent since 1974), which elicited huge cheers every time it was played.
Over these six shows, most of the cornerstones of the Dead's repertoire from the era appear-splendid versions of "Scarlet Begonias" > "Fire on the Mountain," "China Cat Sunflower" > "I Know You Rider," "Playing in the Band," "Uncle John's Band," "Eyes of the World," "Estimated Prophet," "Truckin'," "Sugar Magnolia," "The Other One," "Terrapin," "Stella Blue," "Feel Like a Stranger," "Bird Song," "Let It Grow," "China Doll," "Box of Rain," "Morning Dew"; you name it. From the fall '89 breakouts come "Help-Slip-Frank," "Attics of My Life" and "Death Don't Have No Mercy." Among the still newish tunes are "Picasso Moon," "Blow Away," "Foolish Heart," "Just a Little Light," "Victim or the Crime," "Standing on the Moon," "We Can Run" and a couple that would get their final plays from the Grateful Dead on this tour-"Built to Last" and "Believe It or Not." There are stirring renditions of "Dear Mr. Fantasy" and "Black Muddy River," rockin' takes on "Gimme Some Lovin'" and "Iko Iko" and the only version of the full "Hey Jude" the band attempted in the modern era. And the "Rhythm Devils" and "Space" jams at the heart of each second set are as noisy-beautiful-scary-funny-intense-mysterious-wild as you'd expect/hope for.
Of course, we understand that some of you may have other favorite shows from this tour you wish were included on this box. Really, you can't go wrong with any of them. But at 18 discs, this is still the second largest Grateful Dead box (after Europe '72: The Complete Recordings) that's been released, and the non-inclusion of any other shows from the tour definitely does not preclude their future release! But this seemed like a more manageable way to go, while still giving a sense of the tour's amazing depth and breadth.
Besides the discs themselves, Grateful Dead: Spring 1990 has much to offer, including: a gorgeous 60-page hardcover book containing copious color photos by Jim Anderson and Michael Laurentus, unique artwork by Brooklyn-based fine artist Wes Lang, fascinating business letters and communications related to the tour, a detailed historical essay by Dennis McNally, a Producer's Note by David Lemieux and individual show descriptions by Blair Jackson; a reproduction of the Dead's 1990 tour program (printed and sold later in '90, for the fall and Europe '90 tours); tickets and backstage passes of all six shows; a band publicity photo from 1990 by Ken Friedman; Dennis McNally's tour laminate; and reproductions of the colored 8x10 sheets GDTS sent out with hotel, food and other information for each city on the tour.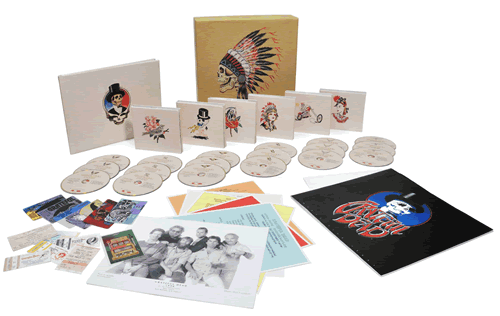 With recordings made by longtime Grateful Dead recordist and producer John Cutler, mastered by Jeffrey Norman in HDCD, you just know it's gonna sound great-and it does!
So, that's the skinny this time 'round. This box is limited to just 9,000 numbered copies - please note, this is the only time these shows will ever be officially available on CD. There will not be an All Music Edition and single shows will not be available physically. Due to ship out August 31st, we anticipate that this extraordinary set will sell-out, so order your copy today.
-Blair Jackson
Show #1 Capital Center, Landover, Md (3/16/90)
Disc 1
1. Let The Good Times Roll> [4:11]
2. Touch Of Grey [6:28]
3. New Minglewood Blues [7:44]
4. Peggy-O [6:34]
5. Queen Jane Approximately [6:15]
6. Loser [7:22]
7. Black-Throated Wind [6:03]
8. Bird Song [14:23]
9. Blow Away [12:02]
Disc 2
1. Scarlet Begonias> [11:21]
2. Estimated Prophet> [11:04]
3. Ship Of Fools> [7:39]
4. Man Smart, Woman Smarter> [6:55]
5. Jam> [5:24]
6. Rhythm Devils [9:37]
Disc 3
1. Space> [10:42]
2. The Other One> [6:55]
3. Stella Blue> [8:49]
4. Sugar Magnolia [9:16]
5. The Last Time [5:19]
Show #2 Civic Center, Hartford, Ct (3/19/90)
Disc 1
1. Hell In A Bucket> [6:43]
2. Bertha [7:10]
3. We Can Run [7:05]
4. Jack-A-Roe [5:13]
5. Picasso Moon [7:41]
6. Brown-Eyed Women [5:59]
7. It's All Over Now> [7:25]
8. Deal [8:41]
Disc 2
1. Box Of Rain [5:27]
2. Foolish Heart> [11:35]
3. Playing In The Band> [8:32]
4. Eyes Of The World> [14:41]
5. Rhythm Devils [10:26]
Disc 3
1. Space> [10:52]
2. China Doll> [6:13]
3. Gimme Some Lovin'> [4:31]
4. Goin' Down The Road Feeling Bad> [6:55]
5. Around And Around [6:36]
6. Brokedown Palace [5:48]
Show #3 Copps Coliseum, Hamilton, Ontario, Canada (3/22/90)
Disc 1
1. Feel Like A Stranger [8:12]
2. West L. A. Fadeaway [7:41]
3. Easy To Love You [6:14]
4. Beat It On Down The Line [3:34]
5. It Must Have Been The Roses [6:29]
6. The Last Time [5:40]
7. Picasso Moon [7:07]
8. Don't Ease Me In [3:30]
Disc 2
1. Scarlet Begonias> [8:30]
2. Fire On The Mountain [11:44]
3. Samson And Delilah [6:51]
4. Believe It Or Not [6:32]
5. Truckin'> [11:04]
6. Rhythm Devils [11:36]
Disc 3
1. Space> [8:14]
2. The Other One> [6:42]
3. Hey Jude> [4:53]
4. Dear Mr. Fantasy> [3:58]
5. Hey Jude> [4:31]
6. Sugar Magnolia [8:45]
7. It's All Over Now, Baby Blue [7:10]
Show #4 Knickerbocker Arena, Albany Ny (3/26/90)
Disc 1
1. Hell In A Bucket [6:53]
2. Dupree's Diamond Blues [6:08]
3. Just A Little Light [5:15]
4. Black-Throated Wind [6:32]
5. Big Railroad Blues [4:40]
6. Picasso Moon [7:17]
7. Row Jimmy [10:53]
8. Blow Away [11:31]
Disc 2
1. Built To Last [5:29]
2. Victim Or The Crime> [9:56]
3. China Cat Sunflower> [5:45]
4. I Know You Rider> [5:24]
5. Man Smart, Woman Smarter> [6:14]
6. Rhythm Devils [11:21]
Disc 3
1. Space> [8:29]
2. I Need A Miracle> [4:03]
3. Dear Mr. Fantasy> [5:20]
4. Gimme Some Lovin'> [5:09]
5. Morning Dew [11:57]
6. Brokedown Palace [5:37]
Bonus Tracks From 3/24/90 Albany
7. Let The Good Times Roll> [4:01]
8. Help On The Way> [4:05]
9. Slipknot!> [3:50]
10. Franklin's Tower [8:04]
11. Loser [7:30]
12. Tennessee Jed [7:53]
Show #5 Nassau Coliseum, Uniondale, Ny (3/30/90)
Disc 1 1. Help On The Way> [4:12]
2. Slipknot!> [5:49]
3. Franklin's Tower [9:39]
4. Little Red Rooster [9:13]
5. Dire Wolf [3:28]
6. It's All Over Now [7:18]
7. Just Like Tom Thumb's Blues [6:12]
8. Picasso Moon [7:56]
9. Don't Ease Me In [3:26]
Disc 2
1. Iko Iko [7:07]
2. Playing In The Band> [9:19]
3. China Doll> [5:41]
4. Uncle John's Band> [8:16]
5. Terrapin Station> [12:59]
6. Rhythm Devils [9:48]
Disc 3
1. Space> [11:30]
2. I Need A Miracle> [4:02]
3. Gimme Some Lovin> [4:55]
4. Standing On The Moon> [8:56]
5. Not Fade Away [7:40]
6. Attics Of My Life [5:12]
Show #6 The Omni, Atlanta, Ga (4/2/90)
Disc 1
1. Feel Like A Stranger [8:44]
2. Mississippi Half-Step Uptown Toodeloo> [7:02]
3. The Weight [6:34]
4. Queen Jane Approximately [6:13]
5. Easy To Love You [5:37]
6. Brown-Eyed Women [5:46]
7. Let It Grow [12:21]
Disc 2
1. Foolish Heart> [9:20]
2. Looks Like Rain> [8:26]
3. He's Gone> [8:59]
4. The Last Time> [5:43]
5. Rhythm Devils [10:42]
Disc 3
1. Space> [9:04]
2. The Other One> [6:24]
3. Death Don't Have No Mercy> [7:37]
4. Around And Around> [3:41]
5. Good Lovin' [7:12]
6. Black Muddy River [6:28]